Its a week ago today, and I still don't know how to describe what happened, after Niilla had finished his part  of the show and when at 9pm the Sunrise Avenue Concert started. My expecations have been a bit mixed. I love this band, I love the singer … as I like to say: the blond finn … I love their ideas, their ability to invent themselves newly over and over again: rockmusician down to the bones, big band tours, acoustic tours and now orchestra tours.
Ok, what should we expect? Some fangirls out there really love a castrated rockmusician … oh sorry, I mean a smugged one pressed into a suit rockmusician. A nightmare for this girl. No I don't like suits, I don't wear them, and if you want me to be really unhappy, than expect exactly a suit of me and wear one next to me.
Back to concert. Tension is rising. Stage has been cleared from Niilla's equipment and the last preperations for the big show begun.
To clearify: although my seat was row 7, my pix are a nightmare. I am awefully sorry for that. Did some videos too, so you will get at least an impression.
Well – stage cleared – we are ready to take off: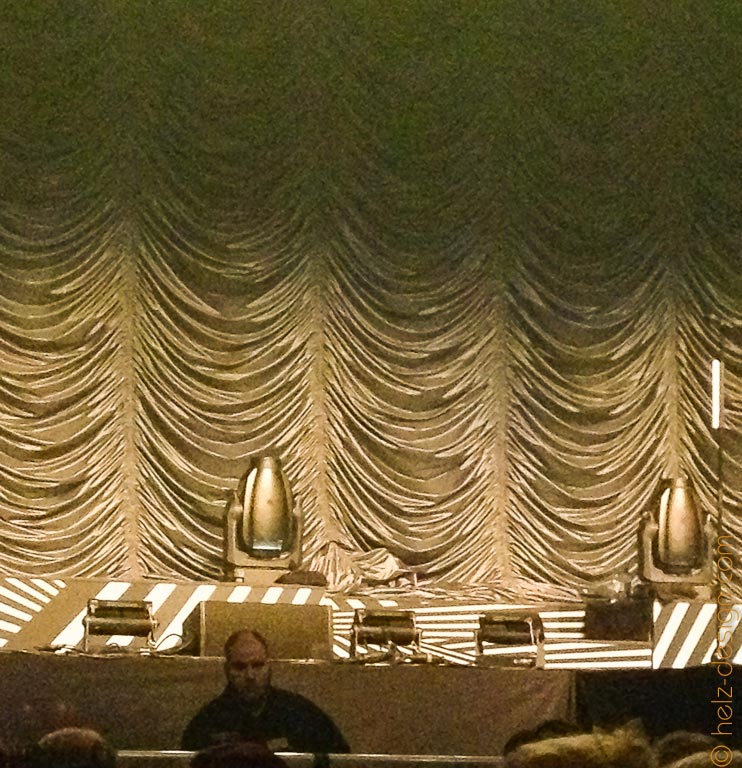 The two seats on my right and left side have been taken by two lovely finnish girls at a time. Last look to cellphone … 9:01 pm … and here we go!
The curtain is illuminated with soft blue and magenta light. My crazy me just thinks: How can you do this in photoshop? You can do it, but you don't have to do it NOW!
In the middle of the curtain a big white light and a shadow: Samu and guitar.
How awesome is this please?
To get on track  some videos.
Pew 🙂 no feared suits! Thanks to whomever 😀 … wonderful t-shirts in softcolors: black, gray,
Und nein keine gefürchteten Anzüge. Locker flockige T-Shirts in den Grundtönen Schwarz, Grau, anthracite, dark anthracite, gladly combined by some sequins.
Here the setlist:
Focus was completly on rockband, playing together with an orchestra. Huge space for solos: great and fantastic as always Riku, Osmo at the piano – no not at keyboard this time – Osmo is really an expetional-musician.  He sings and rapps, he plays the keyboard, piano and double bass, he conducts and I bet he still has some skills we still don't know. Back to soli: a wonderful violinist at  Sail away with me, saxophone, trumpets and certainly always Samu singing and talking.
I have never seen this band more relaxed and just being themselves as this night in March. A gig in Helsingin jäähalli is always special, but this concert is the #1 in special concerts. They not only rocked the stage, they sang, danced, and laughed and the audience did the very same. We really got overwhealmed by emotions, at least the girl next to me and myself. We were in each others arms, cryed together, exchanged kleenex and told eachother: "Ihanaa" – yes absolut fantastic and awesome.
I listened to song, that I had listened to on other shows, I listened to songs, that had been well known from their albums and there were new songs for me. My personal highlights? ALL!
If I had to choose:
Rising Sun
https://youtu.be/ALMf7drO42c
Kiss Goodbye – seeing an awesome relaxed dancing and swinging Samu who happily jumps around with a tambourine in his hands.


Something sweet – divine
https://youtu.be/3BAItnAA5PU
Sail away with me – even more divine


Somebody will find you someday – hopefully


Unholy ground – just because a messed up inter-entry, which amused the guys themselves so much, that I am still flashed.
After one hour a little break, not a real break, but the band changed location and played two songs on a stage at  the other side of jäähalli: accoustically:  Hurtsville and  Unholy ground … close enough for rock and roll.
Resume of the evening?
As Samu said: Last night was magic! Yeah magic pure.
I have never been at a more awesome concert. Seven days ago, and I am still speechless but looking forward to tuesday in Berlin.
Some more impressions:
Lifesaver – my morning alarm
https://youtu.be/k3Vh1atgbSE
Nothing is over – always a pleasure
https://youtu.be/ev345j7ME9g
Funkytown – not my favorite, but the way Samu and Osmo rapped – awesome
https://youtu.be/pXf4e8yimHs
Out of tunes
https://youtu.be/IX_rzpHSeW0
Girl like you
https://youtu.be/LWqgnRE3csM
Sweet Symphony
https://youtu.be/Qad03HXdo30
I don't dance
https://youtu.be/lQczj-V4Z28
Yeah and I could have get drunk by listening to Samu talking finnish 🙂
If you want to listen to the whole songs, there are some pretty good videos on youtube already!
Sunrise Avenue Helsinki Jäähalli 2016